Today's post was NOT brought to you by a messenger from Persia.
I'm in the middle of a "should be writing/am actually doing" phase right now, so I'm doing a series of rants, raves, and little bits in between.
– Writing updates: While my test development papers are doing okay, my outline for the novella I'm writing is suffering from Too Much Going On In Act 2. This stems from the fact that I only have 30,000 words to work with, which means that I have to keep the story as tight as possible and leaving out the boring parts in between. A lot of subplots have been eliminated, but in its place comes a lot of wackiness that might strike some as too farcical to be believed. Plus there are two different timelines for the cake making – one for the cake that takes two months, and one for [SPOILER ALERT] the cake that has to be built within 48 hours, to be assembled at the site with time running out. [/SPOILER ALERT] For both of these plot points, I have to be realistic about the amount of cake, icing, fondant, and other supplies available at Reyna Bakery, since this is a huge cake for a huuuuuuuuuge hoity-toity wedding where no one can predict who's going to stick around by the time the cake arrives. I have faith in Eloisa and Reyna Bakery, though, so I'm sure things are going to work out for the best.
– Pop culture obsessions: I stand by my assertions that Argo won the Best Picture award at the Oscars fair and square – yes, I know, it's a crowd-pleaser, and the backlash is just waiting in the wings – but I've seen it in the theater, and it's one of the few movies that I can and will watch over and over again. I also liked Zero Dark Thirty (which I treat more as a sequel to The Hurt Locker; seriously, watch the endings for both and tell me that there's no continuity there), and The Hobbit has finally converted me into a major Tolkien fangirl. Musically, I've been digging Emeli Sande, Mayer Hawthorne, and Swedish House Mafia, and books-wise I'm about to start The Sense of an Ending by Julian Barnes.
Also: Not only have I joined the Grumpy Cat bandwagon (because of THIS), but I have also become smitten with GC's brother Pokey. I mean… look at this.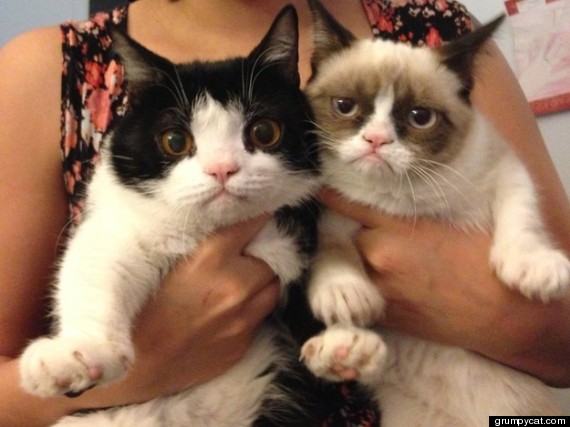 More random comments, after the jump.
– Skincare stuff: My face has been going through a lot of hell in the last two months, and nothing I've tried over the counter seems to work on me… with the exception of Cetaphil and Oilatum, both of which have been pretty good to my face cleansing-wise. Because of this, I've become fanatical about moisturizing, and luckily I've found an inexpensive dermatologist on campus who has prescribed an inexpensive cream for my face to be used as a night cream. My morning routine has changed, though, since I now wash my face every morning and evening before putting on moisturizer: the aforementioned prescription cream at night, and another oil-free moisturizer from my former dermatologist during the daytime. This ensures that my skin is fresh and soft before I put any kind of makeup on it, because otherwise I'm piling gunk on top of gunk.
– Makeup stuffs, part 1: I've been on a roll with Mary Kay products after I attended a product demo two weeks ago. I've only tried two makeup items from the brand, but I'm already loving them a lot: The TimeWise Luminous-Wear Liquid Foundation gives me a nice, glowing finish without making me look oily or pasty, while the Mary Kay Concealer zaps out my dark circles like nobody's business. The best part of it all is that they don't make me break out like other "hypo-allergenic" foundations available to me in my price range, so I can use them without worrying of breaking out in hives. The downside? No SPF, which means I can only use them in the evening unless I layer or mix the foundation with BB Cream.
– Makeup stuffs, part 2: This one is more of a rant, since I've been using YouTube as part of my procrastination activities at night: I'm getting irrationally upset with the makeup gurus I've been following on YouTube lately. I dropped one Filipina vlogger from my subscriptions list for using bad lighting, and another for mispronouncing a skincare product (darling, it's not "Lank-Home Macky Blank"); I also unsubscribed from Michelle Phan because I've gotten tired of people in her comments section accusing her of selling out. Lately, however, I've also started getting annoyed with Pixiwoo – I still watch their videos, but it's mostly Nic now and the last few tutorials she's done… fine, I'll admit it, the Selena Gomez tutorial made me want to grab my laptop screen and scream at her for recreating something that was worn by a 19 year old. Nineteen freaking years old, by Jove! This is something I would expect more from someone who's still within Selena's age range with similar coloring – say, COLORismyweapon or ItsJudyTime, or even Michelle Phan herself – and yes, I know, art is subjective, makeup technique has nothing to do with race or color, and all of that, but… still, by Jove.
Also, I am sick and tired of the over-use of false eyelashes in the makeup guru-verse, because… really, who wears them in a non-editorial/non-formal setting, anyway?
(More on the makeup gurus I actually like in another post.)